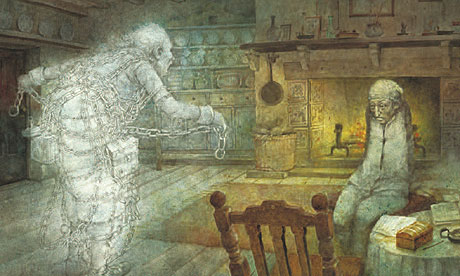 Listen Jena, whenever I glance at the manuscript of my novel, it does me good to remember that Isaac Newton believed in ghosts, that he tried and failed to prove their existence, and that his successes overshadowed his failures.
Still, if one of the 8th graders I used to teach heard that genius scientist believed in ghosts, they'd surely answer with a sharp "fail!" That recently popular insult among kids and stupid adults is often enough to discourage anyone from trying anything. But if success is rare, success not proceeded by failure is very nearly nonexistent. Put another way, a man not willing to fail will not succeed.
Many failures are permanent. Many failed ideas and projects are beyond redemption. No man is, though, until he dies.
This brings me to A Christmas Carol. Everyone should read this book every December. It's Dickens' shortest novel, and by far the most convicting, terrifying and uplifting. At no time is fear of failure and hope for a second chance more potent than in December, in the depth of winter, with one year closing itself off to us forever, and a new one in which we can imagine all our best efforts.
In stave one, When Marley's ghost departs, Scrooge is temporarily able to see the multitude of ghosts outside his window. "The misery with them all was, clearly, that they sought to interfere, for good, in human matters, and had lost the power for ever."
The book's genius is that its danger does not involve hellfire, torture, or bleak, blank oblivion. The curse of death that threatens Scrooge is simply walking the earth for eternity, unable to try again, to do better than he did before, to overshadow his life's failures with good work and good works.
...