Yes, I am completely bored today. Waiting for people is just not my thing! So, while I was one gaia, I decided that in order to make my time seem proficient. I told people who my favorite artist were and why. Now to begin with my assessment!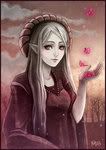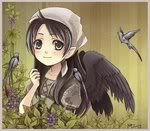 Who is this?
Her name is Ugly-baka-girl on deviantart
What does she do?
She's an amateur, she enjoys drawing for fun!
Where can you find her?
In Poland! Here's her URL so you can see more:
Her page!
When does she post art?
When she can. One picture every other month is her minimum, but it is a well worth wait.
Why do I like her?
I only have four words to describe it: simple, rustic, clean and beautiful.
I'll get Wen's posted when I'm not dying of bbcode to html conversion