Listen, Jena. I know you're looking at a picture of that video game you hate so much, and it might seem I'm going to rant about it, but I'm really going to talk about honor, courage, Lancelot fighting King Arthur, and a chapter from G.K. Chesterton's book, "What's Wrong with the World."
Despite its futuristic setting, the combat in "Halo" is less like real contemporary warfare than the battles and epic duels of the middle ages. When knights in armor ruled the battlefield, defeating an enemy required great strength and skill. Plenty of poetic monks sitting on hillsides report a single warrior fighting for hours, bodies piling up all around him.
In that era of battle, a skilled or strong man with good equipment was nearly unstoppable. To defeat another warrior, you couldn't just be in good cover or sneak up behind him or drive a suicide car-bomb at him. You had to best him.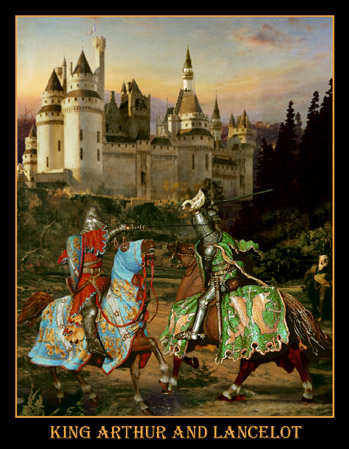 That's what I love most about the "Halo" games; it's difficult to kill an enemy. Unless you get your hands on the rare shotgun or rocket launcher, it can take anywhere from four to fifteen shots to cut through the armor of an opponent and bring him down.
This leads to long duels of exchanged gunfire, ducking for cover and holding your breath as you reload. And if your enemy falls it feels like more than a notch on your kill-wall. You've faced a dangerous opponent with equal odds and bested him. 
Believe it or not that blend of future and past reminds me of a chapter in G.K. Chesterton's "What's Wrong with the World." 
"The reason why modern armaments do not inflame the imagination like the arms and emblazonments of the Crusades is a reason quite apart from optical ugliness or beauty," writes Chesterton. "The atmospheric ugliness that surrounds our scientific war is an emanation from that evil panic which is at the heart of it."
With every advance in warfare technology, the distance at which you can kill a man increases. Chesterton wonders if we have become more peaceful or simply less courageous. 
"The charge of the Crusades was a charge; it was charging towards God, the wild consolation of the braver. The charge of the modern armaments is not a charge at all. It is a rout, a retreat, a flight from the devil, who will catch the hindmost. It is impossible to imagine a mediaeval knight talking of longer and longer French lances, with precisely the quivering employed about larger and larger German ships."
Chesterton's knight need not tremble about a longer French lance because with that weaponry, it is still a matter of an arm and a wrist, a horse and a visor. Chesterton's knight must still be bested by the Frenchman before he needs to fear.
I know what you're thinking, Jena: this is a video game; it'll make you old and weak and stupid. But listen. Like any form of storytelling, the thrill is not in what happens, but in how it happens. In Halo you kill enemies like a legendary knight, face to face and based on nerves and consistent skill. That simulated heroism is much more appealing to me than the simulated modern warfare of other games.
"Now in history there is no Revolution that is not a Restoration," says Chesteron. "Among the many things that leave me doubtful about the modern habit of fixing eyes on the future, none is stronger than this: that all the men in history who have really done anything with the future have had their eyes fixed upon the past."
I'm just a mid-twenties civilian on a couch playing a video game, but like certain good books or movies, the heroism of "Halo" makes me think of Arthur and of Lancelot: heartbroken, brave and thoughtful heroes, instead of the awful, flat, realistic conflicts I see when I accidentally watch the news.
...